TED™ Hair Restoration in Herriman, UT
What Is TED Hair Restoration?
Factors like hormone imbalances and nutrition may lead to early receding hairlines at nearly any stage of life for males and females alike. Androgenetic alopecia, or female and male pattern hair loss, has proven to be a very common type of baldness, resulting in receding, patchy hair that, eventually, may go away completely and decrease an individual's confidence. At Zodiac Spa Beauty & Wellness, we utilize TED by Alma, along with the TED+ Hair Care Formula as a leading-edge solution to encourage hair growth. Acoustic sound energy and the force of air from the TED device supply the specialized TED+ Hair Care Formula deeper into your head to foster blood flow while simultaneously carrying essential growth factors needed to lengthen, fortify, and secure the hair. To hear more about the benefits of this hair loss procedure, and have a complimentary baseline analysis treatment done, arrange a consultation with one of our hair restoration specialists at our spa in Herriman, UT.
Before & After Photos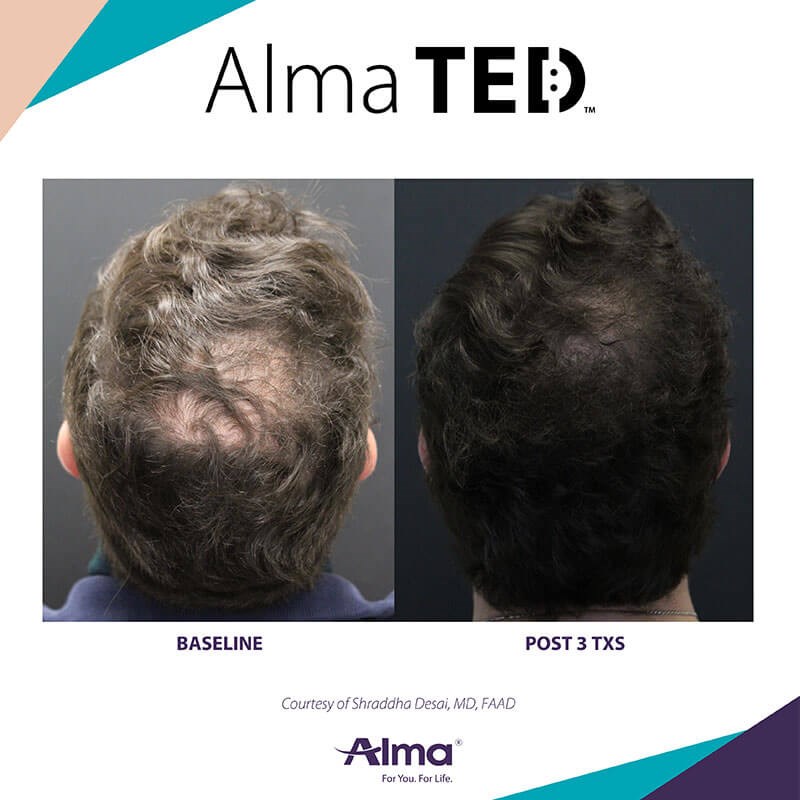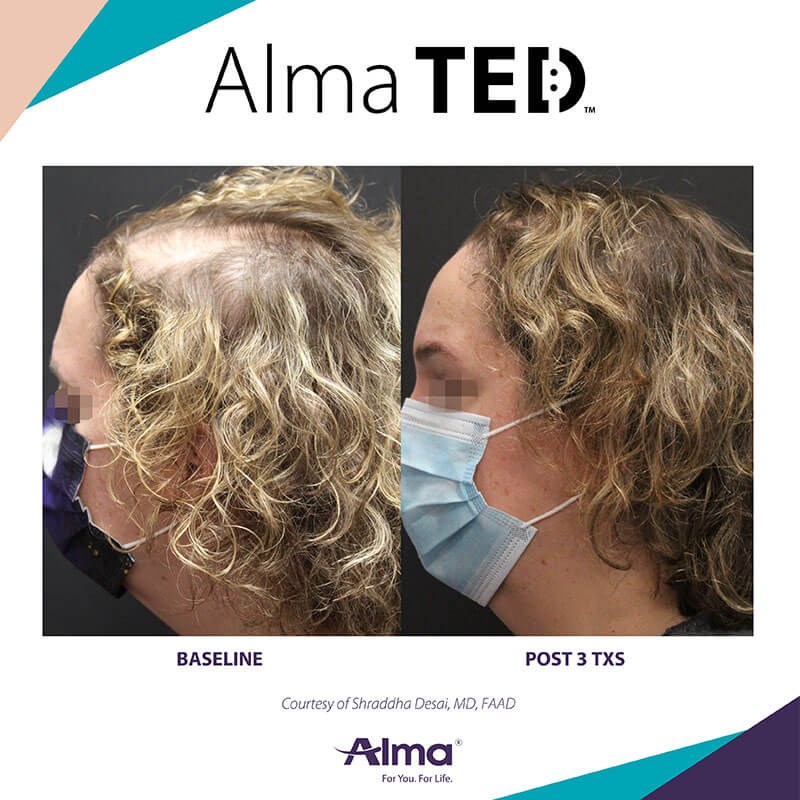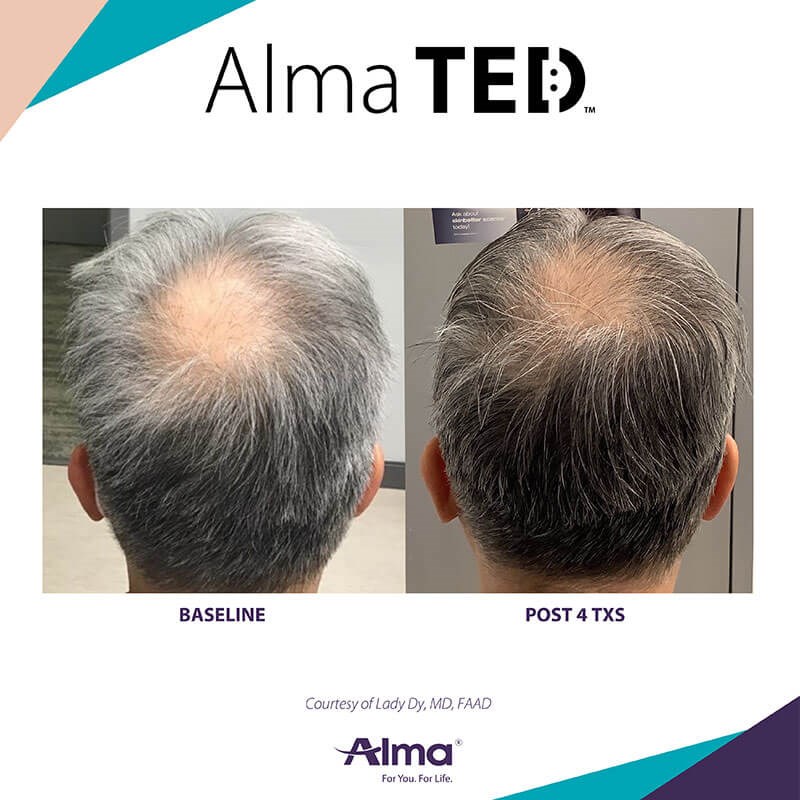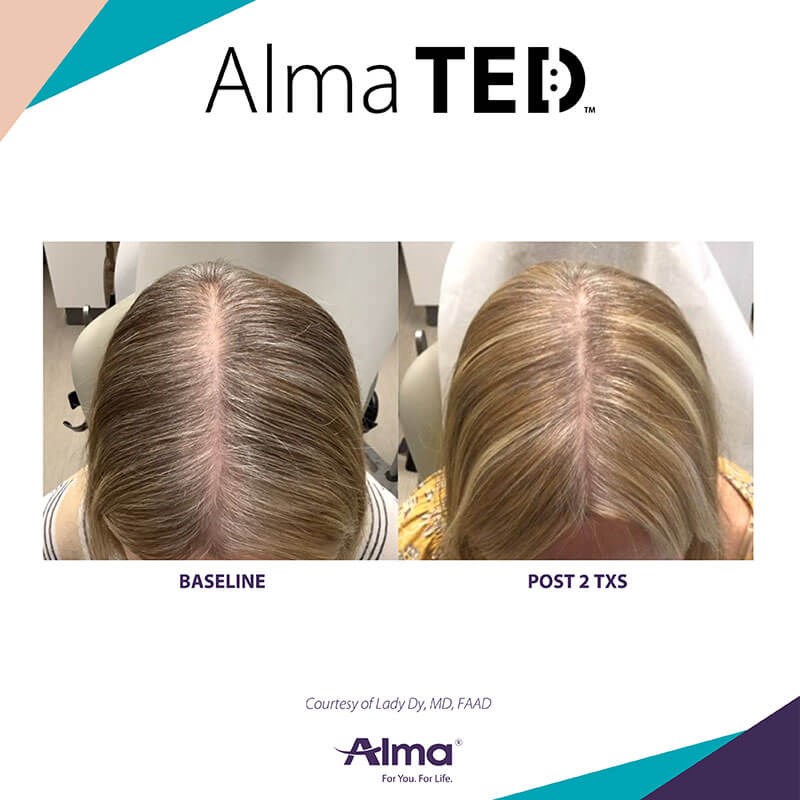 How Does TED Hair Restoration Work?
While most hair restoration techniques utilize lasers or needles in order to create channels in the scalp, Alma TED uses acoustic sound waves and air pressure. This is not only effective but totally noninvasive, creating a much more comfortable experience for the patient. These sound waves create gaseous bubbles under the skin, which expand and allow medications to be better absorbed. Simultaneously, the air pressure pushes the medications even further into the skin. This entire process is performed using a simple handpiece that will be repeatedly glided over the scalp to stimulate hair growth. This treatment regenerates a healthy scalp environment by inducing vascularization around the hair follicles and improves blood flow to the scalp.
Typically, our clients require about three sessions until they've reached their goals. Most individuals say there is no pain during the hair restoration procedure. The innovative technology involves the use of sound waves and the force of air to help supply the specialized hair product beneath the skin, which is not expected to be painful.
Zodiac Spa Beauty & Wellness Reviews
I just went to go see Lisa for a massage here at a recommendation by a friend. She was INCREDIBLE. I am not new to massages, and this was one of the best I've had in my life! My friend told me Lisa uses very firm pressure, which I generally prefer, but knowing that I told her to start between light and medium pressure, and it was absolutely perfect. The way she applied pressure it was never too focused that I became uncomfortable. It allowed me to relax just enough to experience the benefits of the massage, but not feel the need to resist or squirm, even in my most ticklish areas. Still, she was able to get into the detail of each muscle, while maintaining slow movement across the body. The music was beautiful, she used heated towels throughout, the experience was almost spiritual. And at the end she gave me a huge water bottle and some feedback on what she felt from my body. Highly recommend her!
This amazing spa saved my hair and fixed a hot mess! Long story short, my husband tried to cut my hair and tried to give it layers. As you can guess, it didn't work out and it caused both of us anxiety and he was convinced we would have to shave it off. I made an appointment with Riley to see what we could do. When we were talking, she told me my options and what she could or couldn't do. I appreciated her honesty and it was so nice to have someone say their boundaries rather than just winging it. While we were talking, I asked about a pixie cut, and she said that she wasn't comfortable doing it. Alicia the other wonderful stylist overhead and was able to squeeze me in. Honestly, it was game changing. Alicia explained the process, why she was cutting it the way she was and what styles I could do. I wear glasses so I couldn't see the reveal until the end. I felt so comfortable with both Riley and Alicia and we were laughing the whole time. When I saw myself at the end, my confidence skyrocketed! I love it, my husband loves it, my family loves it, even my picky extended family loves it! For the first time in years, I'm loving how I look and I won't be going back to long hair for a LONG time. I cannot thank the wonderful stylists at Zodiac enough! I will recommend you guys to anyone and you have a loyal customer who won't go anywhere else!
Get In Touch
A Long-Lasting Solution
At Zodiac Spa Beauty & Wellness, it is our pleasure to provide this innovative and efficient treatment to address thinning hair. Alma TED hair restoration doesn't involve needles. There's no discomfort or shedding. No surgery. No supplements or medications. No trauma to the scalp. While hair loss is very common, it can lead to stress or decreased self-confidence. If you are interested in a long-lasting hair restoration solution, schedule a consultation with our expert team in Herriman, UT to learn more.
Learn More About Zodiac Spa Beauty & Wellness
About Us
TED™ Hair Restoration FAQs
How much does TED cost?

The cost varies according to the number of appointments recommended to achieve your goals. When you have your initial visit, we will find out your concerns and discuss your hair growth objectives prior to designing a custom-tailored rejuvenation outline, which will include pricing.
How many hair restoration treatments will I need?

We recommend that you look for treatment as soon as hair thinning or hair loss is noticed. The number of TED sessions will differ according to the degree of the hair loss. Noticeable outcomes are usually seen after the starting set of three treatment sessions spaced out over four weeks.
Does TED hair restoration hurt?

Most individuals report little to no discomfort throughout the session. The cutting-edge technololgy harnesses the power of acoustic waves and pressurized air to help carry the specialized hair product beneath into your skin, which should not hurt.
Related Procedures